Jun 7, 2022
Meet Katherine Nerro: Entertainment Revue & Where She is Now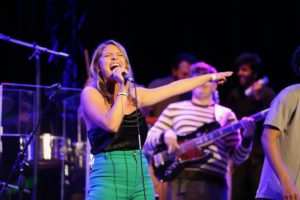 We sat down with Katherine Nerro this week, a graduate of Tampa's Entertainment Revue ("ER"), to learn about her years in ER and how the group got her to where she is today. Katherine is a rising junior in USC's Popular Music Program, an extremely competitive music performance program with a yearly acceptance rate of under five percent. Katherine spent five years in ER, and she has formed a close relationship with Hits! The Musical Director Cynthia Nekvasil. She plans to pursue a career in the music industry after USC and is spending the summer writing music and further developing her unique sound and talents in preparation for her next year at USC. While home, she agreed to tell us a little bit more about her musical journey with Entertainment Revue:
I: What was your favorite part about Entertainment Revue?
K: I think my favorite part was the opportunity to perform so often, with my friends, and people who are also passionate about what I'm doing. It makes it even more fun to perform when you're with friends.
I: How did working with Cynthia influence your experience with ER?
K: Cynthia is such a creative person, and when she has a vision she translates it in a way that is super fun but also just so grand. […] Her visions come to life in a way that's so beautiful, and they come together in a way that just makes sense. I got to experience that with her anniversary show – we saw it start from this tiny thing, then become this grand show with alumni performing – being able to be a part of that whole process. She really believed in me, which was really special, and she's worked with such great people, so when someone like her says "You're really good," it's a good feeling. So, being able to work with her was fun because she motivated me, and she continuously told me "You have something special within you".  That really pushed me to be the best version of myself. […] She gave me opportunities and motivated me. It's special to have that support at the beginning of your career.
I: Can you tell me a little bit about the friendships fostered by an environment like ER?
K: Throughout the whole organization, everyone is so kind and supportive, so the friendships I made within ER I still have outside of ER, even with girls three to five years older than me. It's a community where you can always call on one of them and they'll be there for you. I came in with my best friend, and we were kinda shy, kinda kept to ourselves, then [by the end] we were the only two seniors when we graduated. she was my first friend, then we graduated together. ER really employs this care for each other. It's been really special because i go to school in California and I keep in touch with girls who are out there. There's always the ability to reach out and say, "Hey, come to my show," or "Can I come to yours?" It's really wonderful.
I: How did ER prepare you for university-level performance training? For your career beyond college?
K: [In] Popular Music Performance, every week we have to learn three songs and perform them, [and] we have to rehearse for two days. ER really helped me with that and exposed me at an early age to what that would be like. When you're performing there's pressure, excitement, a lot of different elements, so I think having the experience before I entered the program shaped me into the performer I am today. There are so many elements that go into performing that people don't realize. ER taught me what the fundamentals of performing are, and I've had the opportunity to apply them to school now. With ER we'd rehearse weekly and then get ready for shows, and with school it's like that. We only really have a week to prepare and we have to perform. ER teaches that consistency, responsibility, and work ethic. Also with ER you're always looking for harmonies, how to make the music more full, et cetera. In my program we have to do background vocals on every song, so you really have to go in with a careful ear and look for every possible harmony. ER developed my ear at a young age because I was exposed to that when I was eleven. In the medleys, I was exposed to both the music and history at a young age. In my program for [the first] two years we perform music of the people who came before us, and there are some songs that overlap. I was exposed to that history early. All the different medleys, they show the history and what makes up the music, so when I'm practicing and researching this music [now], I go back to my days of er and I can go "Oh, '50s, 60s, 70s!' I know when this is written, I know who this is," and it overlaps. 
Follow Katherine on Instagram at @katherinenerromusic to follow her journey as a musical artist!
*The above interview has been slightly modified for length and clarity*
Follow us on our socials below for updates and announcements! 
IG: https://www.instagram.com/thehitstourofficial/
Back to all posts