Jul 12, 2022
Get to Know the Hits! Staff
The Hits! Audition Staff is on the West Coast! Our audition tour has only two weeks left, and we've loved getting to know everyone who has auditioned thus far. We can't wait to meet the rest of you!
Now that we've reached these final legs of our audition tour, we'd like you to get to know our team a little bit better. These are the smiling faces you meet when you try out for Hits! The Musical!
Courtney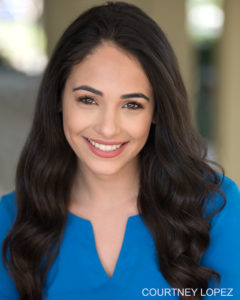 Courtney Lopez is Hits! The Musical's Assistant Director! On tour, you'll find Courtney at the casting table, working alongside our Executive Producer Bob Gries to select the best and brightest auditionees from every city we visit.
She is a lifelong dancer, singer, model, and actress, and she was a member of Entertainment Revue for 13 years. After graduating from the group, she became Assistant Director working under Hits! Director Cynthia Nekvasil.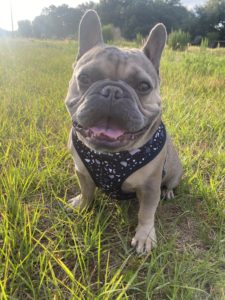 She is also a former Veterinary Technician with a big heart for animals in need. Her dog Pierre and her two cats light up her life, and her only regret on the road is that she couldn't bring them with her!
Gen
Genesis Viera Ortega is our Marketing and Social Media Director! She is a woman of many talents, as a former pro volleyball player who has now turned her focus post-retirement to a burgeoning career in marketing. If you follow our social media, you know how lucky we are to have her on our staff!
On tour, you'll find Gen constantly on the go, filming our singers and dancers, creating content, interviewing select auditionees, or editing on the RV. Social media never stops, and neither does she!
Outside of work, Gen is an avid foodie and coffee lover, so you'll often find her trying out new restaurants and cafes or preparing a new recipe at home. One of her favorite parts about being on tour is experiencing each city's unique cuisine.
However you heard about Hits!, it is likely thanks to Gen! Make sure to give her a wave when you see her at auditions – she deserves all the love!
Lizzy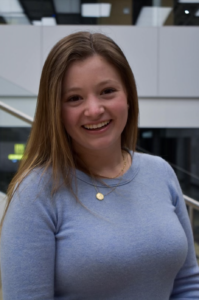 Lizzy is our Administrative Lead on the road. She's one of two smiling faces checking you in each day, and she is thrilled to be on the team this summer. She's been involved with musical theatre her entire life, starting at age six!
At the front desk, she's responsible for managing the day's schedule and keeping our auditions running smoothly. If you're feeling friendly at check-in, thank her for all her hard work!
Leslie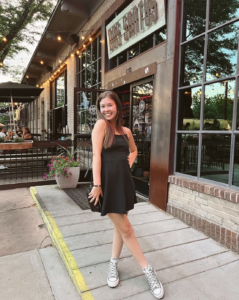 Leslie is one of our dance instructors on staff! She works with the 18-23 and 13-17 age groups every day, teaching our dance combination with a pep in her step and a smile on her face.
She is a rising college senior majoring in Arts Management with a minor in Dance. Hip hop is her specialty, and she hopes to one day run her own dance studio. Anyone who's learned from her knows that that dream will very easily become a reality; her patience, her humor, and her ability to connect with the kids she teaches make her both an amazing dance teacher and simply lovely to be around.
Her favorite part of being on the road is the new people she gets to meet every day! You can follow her dancing journey @les_bell on Instagram.
Cate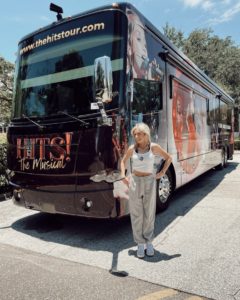 Cate Franks is our second dance instructor on staff, working with the 8-12 and 13-17 age groups. She is a current member of Entertainment Revue, and she's been performing with the group for nine years! She also manages the social media for ER and assists Gen on the road.
She's been dancing since she was four, and contemporary is her specialty. Outside of school you'll usually find this rising high school junior at the beach or spending time with her friends and her older sister, another ER alum!
Her favorite parts about being on staff this summer are the opportunities to learn social media and marketing skills from Gen and then apply them to her own Instagram, posting in each city! You can follow her journey on tour @cate.franks on Instagram.
Katie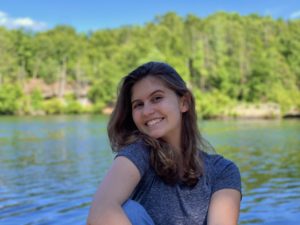 Katie Fletcher is our Blogger (yours truly!) and assists at check-in each morning.
She has loved music her whole life, singing since she can remember and playing harp from the age of three. A rising college sophomore, she is double majoring in Economics and Social Studies. She hopes to pursue a career in economic policy research, where her writing experience is sure to come in handy! She continues to pursue music extracurricularly, arranging pieces for her two college a cappella groups and composing and arranging for the harp.
Her favorite part of the tour is the new cities she gets to see every day, and she is so glad to be a part of the Hits! family!
Thank you for getting to know our audition staff! If you haven't yet auditioned, check our in-person audition schedule or upload a virtual audition! We can't wait to see our San Diego auditionees tomorrow. See you soon!
– Hits! The Musical Audition Staff
Back to all posts